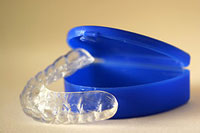 WHY DO I NEED TO WEAR RETAINERS?
Teeth have memories and will have a tendency to move back to their original positions. The retainers hold the teeth in their new positions while the bone and gums reorganize and adapt to these new positions.
WILL MY TEETH HAVE A TENDENCY TO MOVE IN THE FUTURE?
Yes! Just as your body will change as you grow older, your teeth will change too. This change is not a failure in correction, but is a natural change that we have to learn to accept. Experience over the years by orthodontist shows that 95% of the correction can be retained.
IS IT MY RESPONSIBILITY TO KEEP MY TEETH STRAIGHT NOW?
Yes! Only you can keep your teeth straight from this point on. If you choose to discontinue wearing your retainers, you will have to assume the responsibility for this movement. If the teeth shift, the only way to recover could be through re-treatment and additional expense.
WHEN DO I WEAR MY RETAINERS AND HOW LONG?
Unless instructed otherwise by Dr. Hufham, wear your retainers during sleeping hours only! Be sure to wear your retainers every night! The only way for your teeth to remain straight after braces is to continue wearing the retainers for an indefinite period of time. You must keep the retainers fitting. There is no specific "end point" to wearing retainers. If they are not fitting, you need to call us as soon as possible for an evaluation.
You should clean your retainer every day. Brush your retainer with a tooth brush, cold water and anti-bacterial hand soap. Rinse well and place into the retainer case provided for you by Dr. Hufham.
WILL MY RETAINERS EVER NEED TO BE REPLACED?
Retainers are like eyeglasses, contact lenses, or any other item that is worn daily. They will wear out and will need to be replaced. There will be a charge to replace lost, broken or "pet chewed" retainers.
PERMANENT/BONDED RETAINERS
There will be a charge to replace or repair permanent, or bonded retainers.
DO I NEED TO SEE MY DENTIST NOW?
Yes! You need to have your teeth thoroughly cleaned and checked for cavities. Regular dental care is necessary to maintain your dental health.
Great tips for wearing Retainers:
When your retainer is not in your mouth, it should ALWAYS be in its case. Pets love to chew on them!
Initially, you may find it difficult to speak. Practice speaking, reading, or singing out loud to get used to it faster.
Retainers are breakable, so treat yours with care. If your retainer gets lost or broken, call us immediately.
If you have any questions or concerns about your retainer, or you believe it needs adjusting, call us. Do not try to adjust it yourself.
Always bring your retainer to your appointments.
Retainer replacements are expensive, but with proper care they will last for years!
Remove your retainer when you go swimming.
Keep retainers away from hot water, hot car dashboards, pockets, the washing machine, and napkins.