We recognize that all of our patients are unique and deserve to receive orthodontic care that reflects their individual needs. Our experienced and talented team is committed to working with you and your family to create a comfortable, stress-free, and rewarding orthodontic experience every time you visit our practice.
There are six wonderful women who make Hufham Orthodontics such an exciting place to work!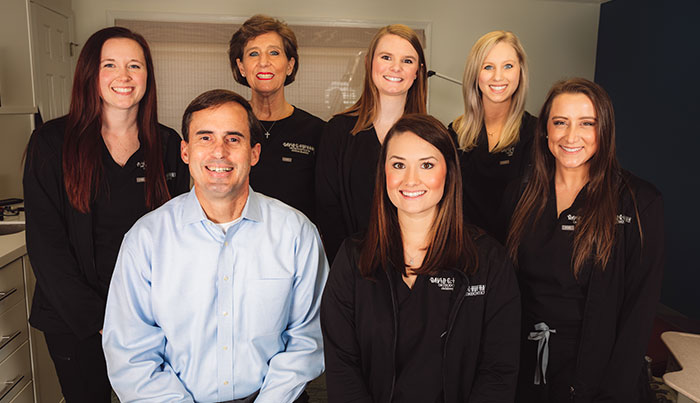 ---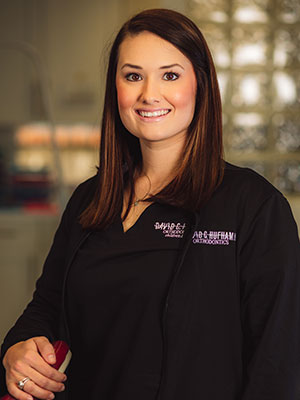 Melissa
Office Coordinator
Melissa is our practice coordinator and she is the "wizard behind the curtain" who makes the office run so efficiently. Her job is to help new and current patients have a good experience in our office. She loves getting to see all the smiling faces that come into our office every day. Best of all, Melissa thinks Dr. Hufham is great and tells the best jokes!
Melissa and her husband Graham were married in 2018. They have a daughter, Emma Frances, and two dogs, Penny and Gracie. Melissa loves going to Orange Theory Fitness and hanging out with friends and family!
---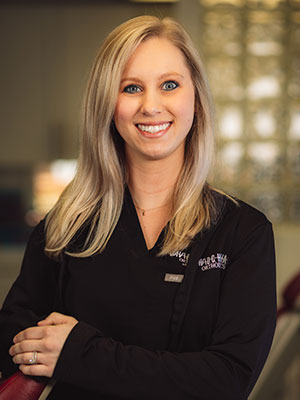 Kaley
Clinical Assistant
Our clinical staff features Kaley, for whom no task is too difficult and who is the kindest person we've ever met. Kaley loves getting to know her patients! Since they visit every few weeks, she really gets to know people and creates friendships. Kaley also loves seeing how happy patients are at the end of their treatment. It makes her happy that we can boost someone's confidence with a smile they can be proud of!
Kaley has been married to her high school sweetheart, Jamison, for almost four years. They have a dog named Bud, and he is their pride and joy! Kaley and Jamison love to hang out with friends and family on the weekends, grilling out, and going to the lake.
---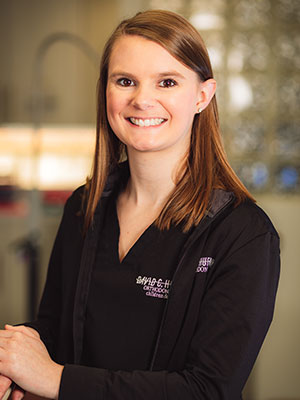 Macey
Clinical Assistant
Macey is our longest tenured team member and we can assuredly say she is as skilled a technician as anyone has ever worked with. She began working with Dr. Hufham in 2016 after graduating from UAB. Having braces later in high school and into college sparked her interest in the dental field as a career. Braces made a huge impact on her life and she wanted to play a role in doing that for others! Macey loves seeing the joy braces bring to the patients and their happiness when they see their results!
Macey lives in Springville with her husband Jacob and dog Daisy! In her free time, she enjoys cooking, being creative, and trying new things! She also loves being outside, unless it's cold!
---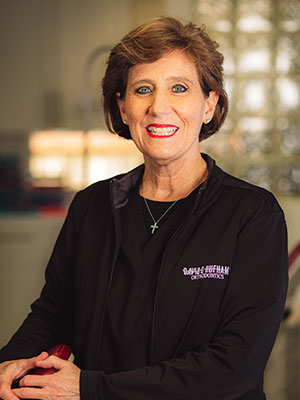 Callie
Patient Relations Coordinator
Callie is one of our newer team members and brings more than 20 years of experience in the dental field, serving as our primary practice relations coordinator. She greets patients with a smile when they come in the door and is available to assist in everything from presenting contracts and verifying insurance to communicating with referring dental offices. Callie loves the energy of Dr. Hufham and our team and is a great addition to it!
Callie's faith is her center and a golf course is her happy place. She has been blessed with lifelong friends who are more like sisters and love to entertain in her home on the weekends.
---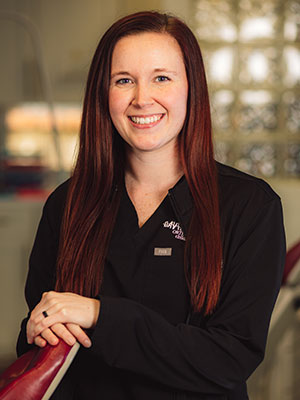 Gayle
Clinical Assistant
Gayle began her career in dentistry in San Diego, CA where her husband was a Marine. She has the mentality of a Marine as well, in that she wants to do her best at all times with little to no fanfare. Gayle is great at the clinical aspects of her job, but really excels at fostering relationships with patients, their families, and the rest of her team.
Gayle and her husband Jordan have been married for almost five years. They have two dogs, Cooper and Jax. In their free time, they like to explore new restaurants in the Birmingham area and spend time with friends and family.
---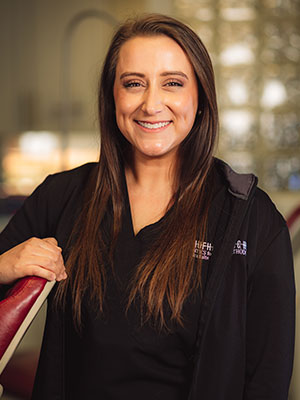 Kahlyn
Clinical Assistant
Kahlyn is the newest member of our team, and her easygoing personality makes her a favorite of many of our younger patients who are quickly at ease working with her. She graduated from Jefferson State Community College's dental assistant program in 2017 and joined our team in 2021. Her favorite thing is getting to take a patient's braces off and seeing how happy they are with their new smile!
Kahlyn and her husband Blake have been married for three years and have a baby girl named Oakley and a dog named Albert. They love to spend time at the lake and the beach together with their families and friends.